Amethyst Hot Springs, Lower Wanganui River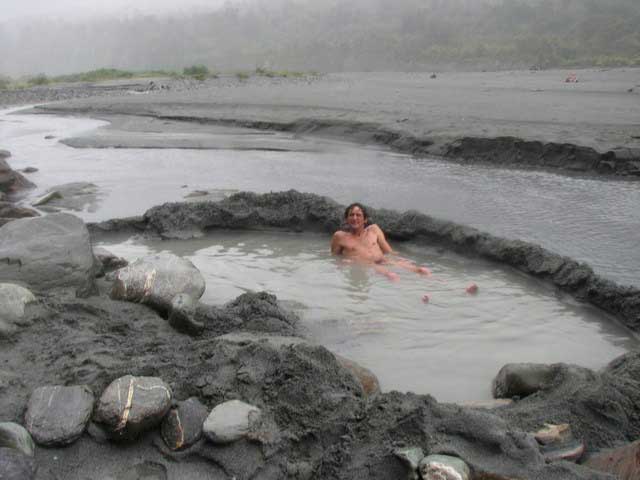 Amethyst Hot Springs, Lower Wanganui River
Description
spring comes up through the
gravel to the side of the river
and it hot need to dig a pool [steve patrick, nz]

Directions
*Take the road on the North bank of the Wanganui River, there is a (at the moment Coca Cola) sign at the intersection.*Drive as far as possible (1.5kmish) to the locked gate / start of the Wanganui Valley track.
*Follow the obvious (and marked) track to rejoin the road (locked gate road). You MUST cross the bridge, ignore side tracks before the bridge.
*200m from the bridge on the corner there is an obvious track heading to the riverbed. Follow it, join the riverbed and head downstream perhaps 100 metres following the bank.*GPS coordinates, S43.16917 E170.62861*All up, a 15 minute 1km moderate / slow walk from carpark. [Andy, Hokitika NZ]
Interactive Map
Map showing location of Amethyst Hot Springs, Lower Wanganui River . Use the controls on the map to zoom in and out.
Bather Reviews
23
We came after heavy rain, so pools totally under water. Could find where the water came up thanks to someone's written instructions on rocks and arrows pointing the way. Maybe 25 minutes to walk there following the old 4wd track to a small river crossing and down a very slippy bank.
Rating: -/10
Morgan - NZ
08th February 2022
22
DOC trail and most riverbank washed out, bridge removed so description is not right. GPS coordinates are good. 4wd track until you have to cross the creek (bridge removed), follow it downstream true left until you reach confluence with the river. There stay true right of the big river and boulder hop about 50m upstream. Cairns or gps coordinates help you navigate. Few small pools, one bigger one, depending on river level some shoveling may be needed. Can be too hot. Sandflies very present
Rating: 10/10
Pavel - Czech
30th January 2022
21
18 Dec, 2021. 2km walk from Amethyst powerhouse on old road to washed out bridge. You will get wet crossing the creek, river crossing experience recommended. Didn't make it to the pools (300m past creek), so can't say if they are still there
Rating: -/10
Andy - Hokitika, NZ
19th December 2021
20
As of 29/07/20 Hot spring now here: -43.167813,170.629063.
Rating: 6/10
conal ryan -
29th July 2020
19
Visited the pools yesterday (28/11/18) and was not disappointed! There was one main pool, depth just below the knee and a good temperature. Some other pools have been dug, but there was no water in them. Rating would be 10, but the sand flies do make it hard to relax completely. Since visiting these pools 2 and a half years ago, there is now a sign at the first gate on the 4wd track saying no public access, and to use the marked DOC track instead. The gate was open, but I decided to leave the ute here and walk. I opted to walk up the river itself as I wanted to check if there was any hot water coming up where the old pool below the rocky terrace was (this pool is mentioned in some of the older reviews below), as when here last in 2016, that pool had been swallowed by the river. There were a few hot puddles, so a pool could likely be formed here (currently) with some digging. When returning, I walked back along the 4wd track and the gate at the bridge (Amethyst Ravine) was locked as a portion of the road has slipped away, so driving past the first open gate only would've saved about 10 mins of walking.
Rating: 8/10
Michael - Christchurch
29th November 2018
18
Tried to find these pools despite 4 years old reviews but no luck. No signs of the pools or the big pool. Could someone prove me wrong?
Rating: 1/10
Boris - Slovakia
28th May 2018
17
The map is wrong is showing Wanganui northland is on west coast south island
Rating: -/10
Steve patrick - Tapanui 9522
19th October 2015
16
We visited the pools yesterday (26 Dec 2014). We drove to the end of the road, it's a little bumpy but ok for a car or van. We followed the track and used the GPS co-ordinates listed here (thanks). The small pools were nice and hot but very small. We only sat on the bank with our feet in the water. We walked back along the river to found the large pool and had a good soak on it. The rock face is a little close so we didn't go to that side of the pool.
Rating: 8/10
Darran - Rolleston - New Zealand
27th December 2014
15
There is no more construction site there. But there is still a Coca Cola sign at the junction. Park you car at the power station if it\'s not 4wd. We swom in the great pool below the slip mentioned in the previous review. Just 5-7 minutes walk, very easy to find, great for naked swimming. Upper end of the pool is hotter than lower. 10 points!
Rating: 10/10
Alexey - Germany
8th February 2014
14
I went yesterday to find the pools (10th July) and found a small pool at the site specified above which was big enough for two people when lying down however if you take a shovel you could fit more. However, on walking back to car, right below where we were walking we noticed steam, went to explore and found a HUMONGOUS crystal clear pool right below the slip near the beginning of the track near the locked gate (we have a 4wd so could make it over the start where the bridge has collapsed, not too bad but need a 4wd for sure). This pool is around 50m long, directly below the path, you can access by finding the point around 50m from the Wanganui Track sign in which you are able to get down to the river. Then right in front is a separate pool not connected to the river below the slip, very long with perfect swimming temperature in most parts, up to just over the knees. The only thing is that the slip overhangs quite a bit so it might be a bit dangerous with a few precariously attached rocks etc, but if you want to risk it, it is absolutely BEAUTIFUL and big enough to swim!!!! Will soon put up a photo. Also, sign at turnoff is still a coca-cola sign and construction site is still occuring but does not stop access.
Rating: 10/10
Justine - Christchurch
11th July 2013
13
Hi - Just saw this on the DOC website.... Severe flood damage As a result of heavy rainfall in January 2013, the upper Wanganui valley track between Hunters Hut and Smyth Hut has sustained major damage, making access extremely difficult. Smyth Hut is closed until at least the end of June 2013 while further site assessments are completed following severe flood damage in the area. Smyth swingbridge was destroyed in these floods and there is no longer bridge access across the Wanganui River at Smyth Hut.
Rating: -/10
SM - NZ
4th July 2013
12
There's a large construction project (hydro I think) at the turnoff and some discouraging signs. Don't be discouraged, go straight past all that and follow previous directions. At Jun 10 2013 someone had left a generous pool at a perfect 37 deg. Even the sand flies weren't too bad, I expected the worst tho. Thanks to the most recent diggers.
Rating: 8/10
Craig -
10th June 2013
11
Great spot but recent flood (that took out the bridge closing the state highway for a few days) has changed this area. You now need to park at the site 500m before the car park unless you have a 4wd as river taken the road. Also the track isn't so clear as more slips have occurred on the walk up the river. The walk through the forest is overgrown and has a dangerous section to cross over an overhanging landslip however with care it should not be a problem. Once you cross the bridge it is exactly 238m until the turnoff at the corner which is also currently overgrown. There were no dug out pools as of 7am 14th Jan 2013 so digging was required, and probably will be after each heavy rainfall. From speaking to locals it seems that it is currently better than usual as there are so many places where thermal water underfoot, potential for 5 to 6 pools. Very hot so channel some out when digging. Recommended, just 20 mins from state highway!
Rating: 8/10
Alex M - Brighton, UK
16th January 2013
10
its been raining so water is up .easy to find annd perfect at night after diggin out at day time .water very hot when we returned so had to channel cool water in an fluctuate the temp .and no stinking sulphur .bugs are vicious/relentless/big.but sitting in the hot water with a slightly drizzly night an a beer =aaa
Rating: -/10
rob - ch ch
24th May 2011
9
Awesome at night (without the sandflies). Two nice hot pools and a few metres away that is slightly cooler. Note: you need to bush bash your way through the patch of bush just beyond the car park at the moment as the track has fallen down into the river. This takes about 10 minutes but isnt far and you wont get lost provided you stay close to the river :)
Rating: 8/10
Kerry Weston - ChCh
15th March 2011
8
Low rainfall / watertable meant the water was only 10 inches deep even after digging out. Water temp was that of a hot bath. Worth the effort and 15 minute easy walk.
Rating: 7/10
Andy & Sarah - Hokitika NZ
24th July 2010
7
Visited Queens Birthday weekend. Pool washed out leaving shallow, tepid indentation in the sand. Not worth visiting at the moment
Rating: -/10
Pete From ChCh - ChCh /NZ
25th June 2010
6
I don't have much to compare this to as it's the only non commercial pool I've been to but I thought it was fantastic. It's a great place to stop if on a tight time frame, good for an adventure that doesn't last for days. The directions were good but a little old. Basically the river has washed out even more of the track that others spoke of. We just followed the river bank as far as we could until we got to the track before the bridge. After fining the pools we walked back the road way, this was super simple but yes you are trespassing. Was a great experience, thanks for the info that allowed up to find it.
Rating: 8/10
Emily -
20th April 2010
5
Excellent directions, thank you, but you don't have to climb the bridge. Very nice, especially after dark when the sand flies have gone. We camped on the beach, just to the right of the track, but were disappointed to find out pool had washed away in the morning.
Rating: 7/10
David & Ryoko - CHCH, NZ
31st December 2009
4
I used to go here when i was a kid, amazing place. Used to sit in the hotpools and watch wild goats through the scope of my rifle across the river. I miss home :(
Rating: 10/10
matt - perth WA
10th August 2009
3
have been here 3 times now and going there again in two weeks last time the first time took sometime to find was there all day with my kids was a good way to spend a wet day but the bugs bite I use a old tent window net on my head to stop the sandflies biting
Rating: 8/10
steve patrick - new zealand
19th January 2009
2
I had an absolutly amazing day with my two children(the youngest being two)and felt totaly at ease with them running in & out of the water with no fast flowing rapids to have to worry about. An easy 15min walk from the carprk. pack a picnic and take time to enjoy
Rating: 8/10
C. Stead - N.Z.
11th December 2005
1
This hot spring comes up through the gravel to the side of the river and it hot enough to want to mix with some of the river water. As the gravels are shifting you may need to dig your own hole, or improve on another. The sandflies are ferocious though, so have your clothes ready to put back on fast.
Rating: 7/10
Gillian - Sydney, Australi
25th October 2005
Write Your Review on Amethyst Hot Springs, Lower Wanganui River